Rules and Guidelines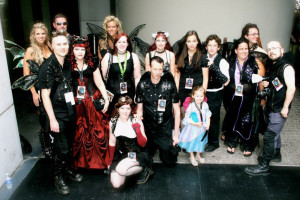 The only actual requirement of being a fairy has been handing out flyers, or helping to promote our show; we ask that you spend a few hours during Friday, Saturday, and/or Sunday passing out flyers for the Crüxshadows show or carrying signs through the convention advertising our show time and concert location. We will keep records to ensure that this requirement is being met. There will be a sign-in sheet at the merch booth- please print your name legibly every time you pick up a stack of flyers, or carry a sign.
The DragonCon and hotel rules have changed dramatically from past years.  We cannot hand out flyers on the hotel premises or anywhere in the convention except at or near our merch table.  We have spoken to the Convention on the subject and they have good reasons for this policy change. Unfortunately this might hurt our presence at the convention, as well as the size of our show.  We CAN hand out flyers on the sidewalks between the hotels and on the sidewalk in front of the registration area. The Atlanta ordinances allow flyers to be distributed on city property only if the flyers are distributed directly to people by hand.  They cannot be hung or left in stacks anywhere. Do not leave stacks of flyers lying around the hotels in random places either. Also, please do not pass out flyers for other bands or competing events.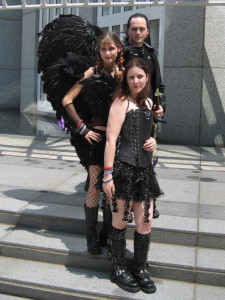 DRAGONCON MANAGEMENT HAS MADE IT CLEAR THAT ANYONE WHO HANDS OUT FLYERS ON HOTEL OR CONVENTION PROPERTY MAY HAVE THEIR BADGE TAKEN AND BE EJECTED FROM DRAGONCON.  YOU MIGHT GET A WARNING, BUT YOU MIGHT NOT.
Past DragonCons in Atlanta have been very hot and very humid.  Therefore, it would be in everyone's best interest to have short rotations of outdoor flyer handouts so that nobody gets overheated. It would be preferable for our faeries to stay in groups for safety.  Many of you are females, and downtown Atlanta is not always the safest, particularly at night. We don't want anyone putting themselves in a dangerous situation.  Please stay close to the hotels, in or near the walking lanes for the convention. Please keep your cell phone on you just in case.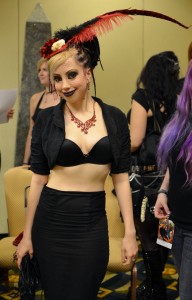 Another method for getting the message out is to carry signs.  We can have people walk with signs or placards around the convention.  This might be a good solution to the problem, especially as it keeps many of you in the hotels. This approach has been approved by DragonCon's management, so we expect no problems on this front.
While distributing our flyers, do not hand out flyers for other bands or events. It's counterproductive for everyone.  Chances are, if you hand 3 flyers to someone, they will just toss them aside with no interest in what any of them say. Several fairies have asked about passing out flyers for other shows as well- we fundamentally have no problem with this, as long as it does not interfere with CXS promotions; i.e. not handing out other flyers at the same time, not for events happening at the same time as the CXS show, and not while in official fairy gear. While we may (or may not) love our friends in these other bands, it is fair to say that they do not always have the same ideas about things as CXS.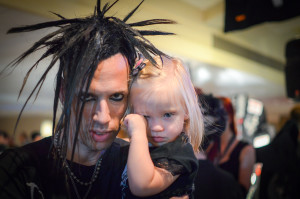 While passing out flyers: Wings and fairy badges should be worn. This will identify you as an official representative of the band. Dress your best – the better the impression we make while passing out flyers, the more interested Con goers will be. Do not pass out flyers if you are intoxicated or under the influence. Don't forget that as a Crüxshadows Fairy, and a representative of the band, you reflect the band and what it stands for.
Regarding your Fairy Badge: Keep in mind that while this identifies you as a CXS Fairy, it is not related to the convention itself, and you must still have your official DragonCon badge on you at all times during the convention, per convention rules. The fairy badge alone will not gain you access to convention areas and events.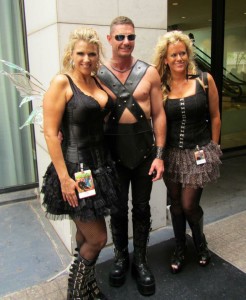 Regarding the DragonCon parade: Every year, DragonCon has an official parade through the streets of Atlanta. The fairies have participated in this parade for the last few years, and everyone always has a fun time with it. See the Fairy Schedule for info on time & place to be before the parade. Important: The city of Atlanta has decreed that there are to be no flyers, goodies, or anything at all passed out during the parade. See a fairy leader or captain with any concerns.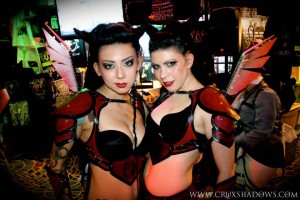 Regarding the Crüxshadows show: We make every effort to make sure that the Crüxshadows Fairies have priority entry to the Centennial Ballroom on the night of the show. However, this is not guaranteed, and the decision as to whether or not it can be done is ultimately up to DragonCon. If they deem that there is any reason not to let it happen, we have to abide by their rules. Make sure to wear your fairy badge to the show, as only those with fairy badges will be allowed priority entry. We have consistently packed the Ballroom to capacity year after year, so make sure to arrive early and secure yourself a spot! Also- please don't wear your fairy wings to the CXS show if you can avoid it. Nothing can ruin the experience of a show like repeatedly getting poked by fairy wings
Have fun!!